What to do for Valentine's Day when you've  just been kicked out of hospice after losing your appeal?  You be both patient and caregiver and bride and groom!
We renewed our vows on Valentine's Day.  Not in the crowd of 400 that renew their vows every year on Siesta Key Beach but in the front foyer of our home surrounded by neighbors.
We spent the afternoon at the doctor's office, getting Larry's prescriptions replaced, the wounds on his heel and nose examined, and figuring out what to do about replacing all the respiratory equipment that hospice supplied which we use every day.  Unfortunately, the doctor had never received the hospice notes so it was a complicated meeting and we couldn't accomplish everything.
Then we zipped by the bakery to pick up the cake and came home to get dressed.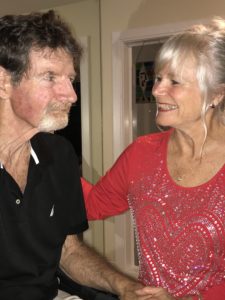 The bride wore a red tunic with a glittery heart over flowing white slacks, the groom wore a black golf shirt and khaki's and his power wheelchair.  They took their places to the sounds of a sing-a-long of "Goin' To the Chapel of Love."   Live music was performed by the husband of a woman the bride had met in high school and had reconnected with just three years ago here in Florida.  The officiant was a neighbor and long time friend from up north who the bride had married seventeen years ago in Massachusetts. There were heart shaped balloons and red roses, champagne, and cake.
A neighbor said he'd been worried it would all be a tear-jerker, and although there were a few misty eyed moments, there was also a lot of laughter.
We wrote our ceremony, based on our first wedding.  As we said our vows this second time, Larry gave me a big thumbs up when I repeated that I'd care for him "in sickness and in health."  That cracked up everyone, including me!
In a surprise of technology, two of our children who work at desks in universities were able to join us through a special conference call and even able to speak, telling us and everyone gathered what seeing our love and our relationship meant to them both over the years and as they watch us now.  That was so special!!!
It was wonderful for us to be able to tell everyone present what their support over these last three years has meant to us.  We included a sand ceremony based on an ancient salt covenant, symbolizing the bond created as once the grains are mixed together they can never be separated.  Larry and I each added sand to a beautiful ocean colored vase, added sand from each of our children, then asked each neighbor to come up and add a bit of sand as well.
At the end we offered a toast to everyone present saying that the measure of a life is how well you love and how well you are loved, and thanks to them we felt blessed to have accomplished both.
Why did we do it?  It just seemed right.  We didn't give it much thought.   Had I thought about all the details, all the work, all the energy it would take, I might have thought harder.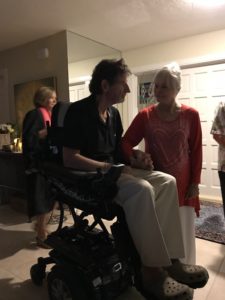 As I write about it now, three days later, I know exactly why we did it.  In this incredibly difficult and heartbreaking journey we are on together,  we need to acknowledge the the strength of our love and the possibility of continued romance. We need to not just be caregiver and patient but also bride and groom!